Our Hamilton Dental Office Policies
Financial Arrangements
Our primary goal is to help you achieve optimum dental health. Our staff will consult with you privately and help determine what best suits your financial situation. We accept Visa, MasterCard, and direct debit payment, along with cash.
To save you time, we also offer direct billing to insurance companies.
Your Dental Plan
If you have trouble understanding any part of your dental benefits, please call Della and she will help you understand them in any way that she can. Maximizing your benefits is in your best interest.
You pay into your plan through your deductions at work so make the most of what is available to you and your family.
Misconceptions about your coverage...
The most common misconceptions about dental plans are that:
All plans run on a calendar year
All plans from the same company have the exact same coverage
All plans allow the cheque to go directly to the dentist (known as Assignment - see below)
All plans allow for the dentist to file electronically (known as EDI - see below)
All plans will allow the dentists office to call them on your behalf
The family member on the plan must be present during all appointments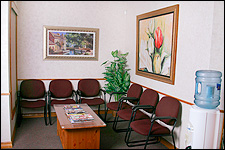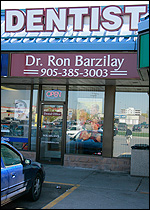 ASSIGNMENT, EDI and the CO-PAY Policies
Assignment: is a benefit of your plan to assign or send the amount that they will cover directly to the dental office. Here at Dr. Barzilay's office, we DO accept assignment of benefits. Most dental offices DO NOT accept Assignment in their office. This means that you (the client) have to pay the full amount owing the dental office at the time of your appointment. The dental office would then send the information to your insurance company and the insurance company would then send a cheque for the covered payable amount directly to you. Please remember that although this office accepts Assignment, your plan may not. This CANNOT be changed or overriden by us. Your plan is structured by your employer and the insurance company and thus is not subject to change by us.
EDI: is Electronic Data Interchange and means that we can send your claim to your insurance company electronically. At Dr. Barzilay's office we can send claims through EDI, but please remember as with Assignment, if your plan does not allow for EDI then we cannot override this with your insurance company.
Co-Pay: is the portion of money owing by you that your dental benefits plan did not pay. This must be paid for at the time of your appointment. If your plan does not print out the amount owing on the EDI receipt then the full amount is payable by you at the time of the appointment.